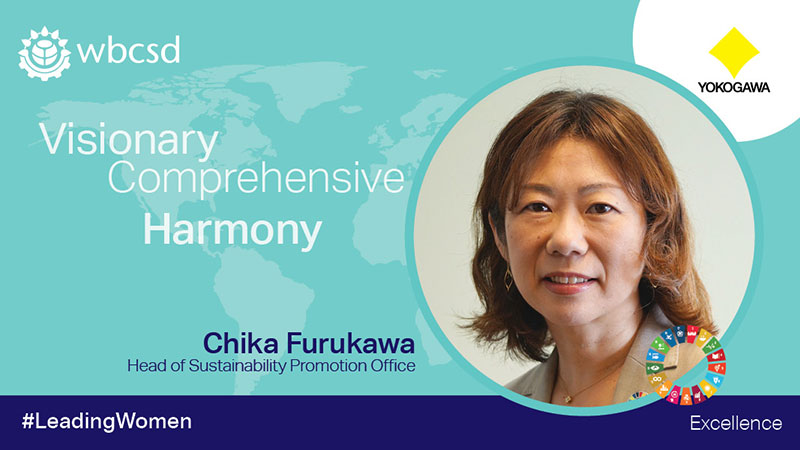 Chika Furukawa has been responsible for overall management of CSR at Yokogawa since 2015. She was appointed as the company's first head of the sustainability division to accelerate its contribution to the SDGs, and in that role she is committed to realizing a sustainable society for future generations.
In 2017, she successfully established Yokogawa's aspirational sustainability goals for 2050, which are directly in line with the Paris Agreement and the SDGs, and subsequently set mid-term sustainability KPIs that have been incorporated as a fundamental element into the company's mid-term business plan announced earlier this year.
Chika continues to raise internal awareness of the importance of ESG as a corporate foundation and motivate management and employees to undertake initiatives for improvement. She is actively promoting CSR disclosure, and, as a result, the company is now recognized as a leading example of corporate responsibility in the Asia region.
Chika graduated with a degree in Geography from Ochanomizu University. After joining Yokogawa in 1987, she gained experience in the fields of product marketing, sales promotion, corporate auditing and risk management. At one point, she concurrently acted as a corporate auditor at a special subsidiary company in Japan for people with intellectual disabilities. She has been responsible for environmental management of the company and led the transition to ISO14001:2015. Chika also founded the Yokogawa Green Volunteer Program, which is an initiative by volunteer employees aiming to promote biodiversity.
"I would like to share the delight of receiving this award with my colleagues and the company's management team who continuously showed strong commitment to Yokogawa's sustainability aspirations. We are responsible for ensuring the well-being of future generations. For that purpose, more women should participate in decision making and work to incorporate sustainability factors into all aspects of business. Our challenge will continue!"